Understanding movement behaviours during the pandemic to impact change

Mobile movement data collected in a privacy-compliant way from anonymous devices have enabled our clients to understand more about the movement patterns of their customers as businesses have changed over the course of the pandemic. This type of analysis has been implemented in marketing initiatives across several industries, ranging from helping tourism organizations understand the impact on local travel during the pandemic to helping banks and retailers pivot to better serve a changing audience. We have also discovered that these data can be quite valuable in determining the general population's compliance with the ever-changing health and safety measures recommended by government officials and top health professionals. Most recently we analyzed the population that took an overnight trip over the year-end holidays. With COVID-19 cases climbing higher, government agencies at all levels issued strong recommendations for people to stay home for the holidays and avoid getting together with family and friends. We thought we would take the liberty of evaluating compliance with that order specifically with regards to those staying out of their home overnight.
How did we get this information?
Environics Analytics develops several mobile movement data products such as MobileScapes and VisitorView using privacy-compliant, anonymized location data from over 20 million mobile devices in Canada. These data allowed us to examine the movement patterns of Canadians over the holidays, from December 23 to December 30. The analysis looked for 'people' (based on their mobile device) who spent at least one night outside their home postal code – we did not look at destinations of the individuals but we know that wherever they went, they stayed overnight. We then tied those postal codes to demographic information, such as age and income, to come up with estimated profiles for the kinds of people who were exhibiting this behaviour.
What did we find?
First, we found that over 1.2 million Canadians took an overnight trip during the holidays in 2020. The good news is that, although that number seems high, it is 58% lower than the same period in 2019. Even better news is that compared to Thanksgiving, 30% fewer Canadians were taking overnight trips, indicating that more people were listening to the recommendations and staying home. The bad news is that we saw a 7% increase in the number of people taking overnight trips compared to the week before Christmas, which means that people perhaps had planned to stay with friends and family or take a small vacation, regardless of the risk. As you see below, this trend varies across the provinces and major cities in Canada and different demographic groups.
Where are people travelling from?
Some highlights that we found interesting from a geographic perspective centered around a few key provinces and cities. Of the larger provinces in Canada, Quebec contributed 20% of all overnight travellers in Canada during the holidays and saw a jump of 12% compared with the week before Christmas.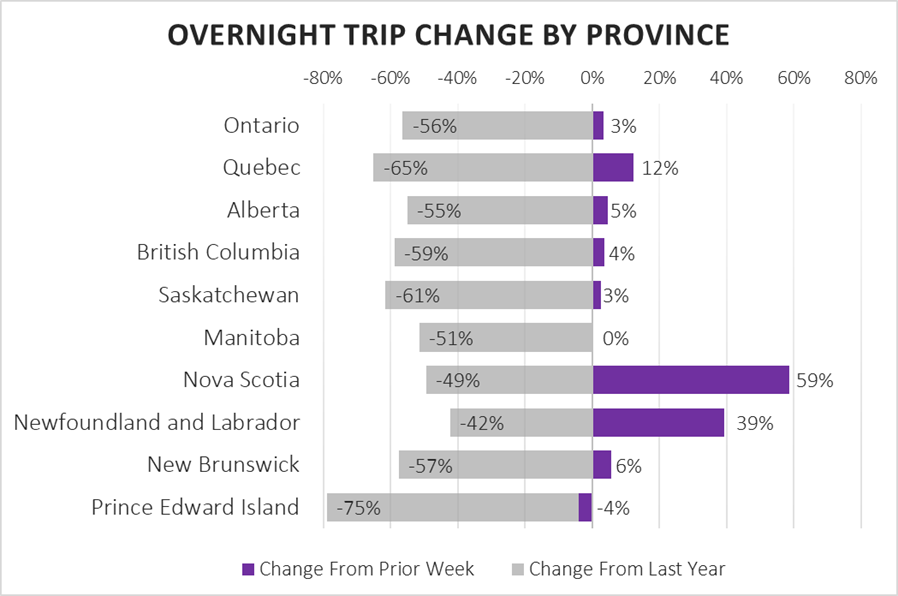 In Atlantic Canada, we saw that Nova Scotia and Newfoundland and Labrador displayed the lowest decline in overnight travel year over year and the highest increase in proportion compared to the week before the holidays. It is likely that this behaviour stems from a feeling of security, having been fortunate to be a part of the Atlantic Regional bubble to help manage COVID-19 cases over the past year. While we did not analyze destination information for these travellers, based on past studies it is likely that they were travelling interprovincially within Atlantic Canada if not within their own province.
Four major cities in Canada contribute to about a third of overnight travellers in Canada. All of them saw double digit increases in overnight trips compared with the week before Christmas. Vancouver showed the largest increase week over week at 24%. These cities had a large impact on overnight travel statistics in their respective provinces. The maps below display the trend at a neighbourhood level with the darker shades of purple showing higher levels of overnight trips.

Toronto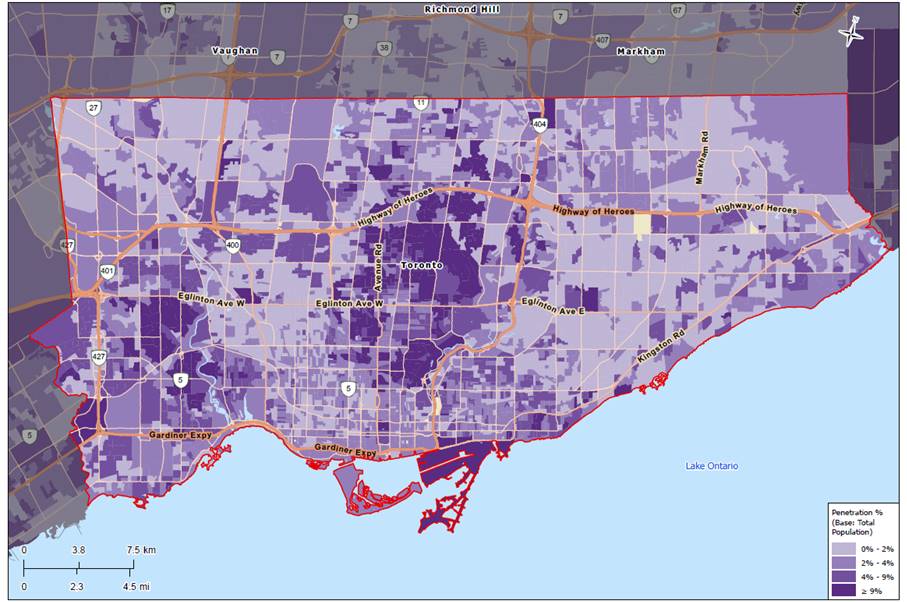 Montreal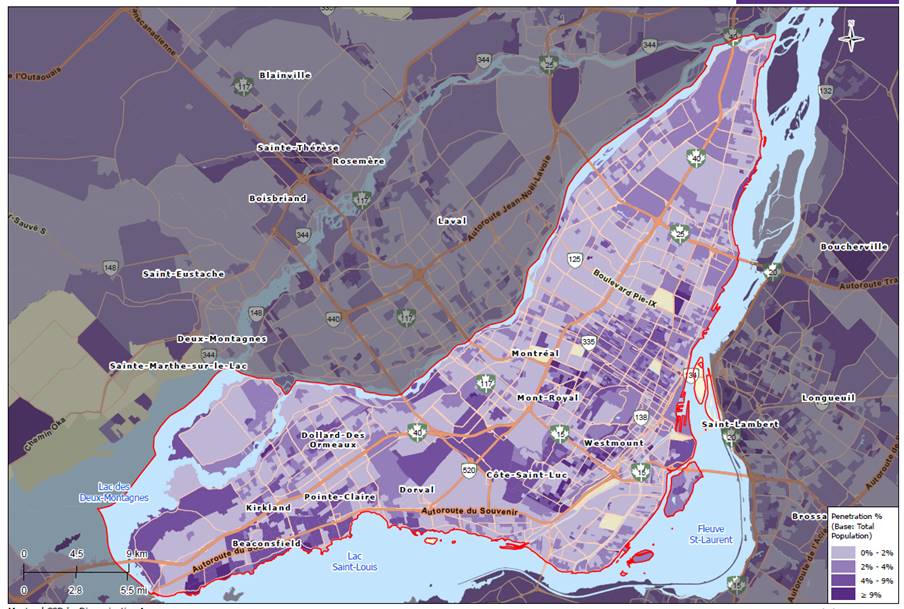 Calgary
Vancouver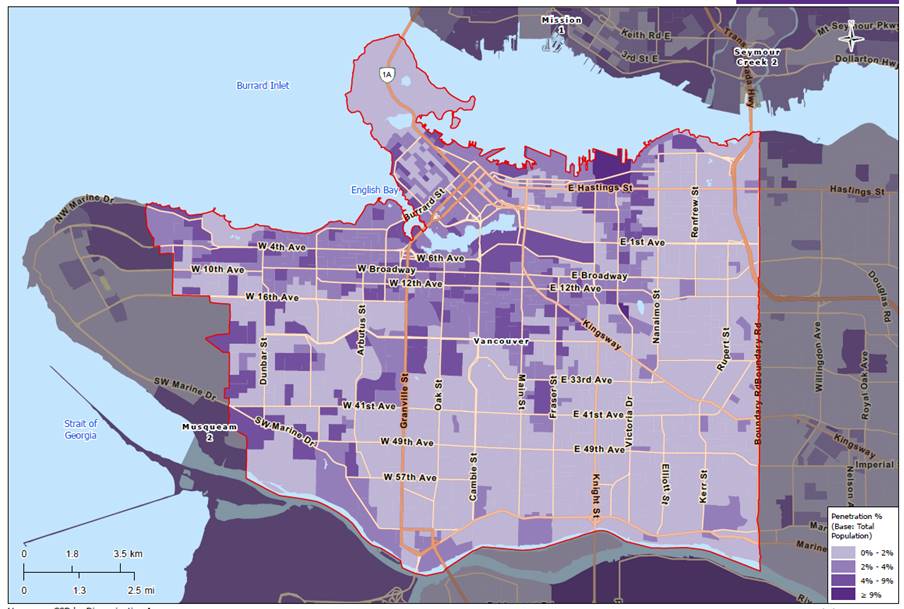 Who is travelling?
We combined our Canadian lifestyle segmentation system, PRIZM, with these data to determine the types of people that were likely to stay out of their homes overnight during the week of Christmas and saw these trends among three high penetration segments:
Mature Seniors – 34% of travellers (3% growth over the prior week)
Young Singles, Couples and Families – 15% of travellers (20% growth over the prior week)
Higher Socioeconomic Families– 13% (19% growth over the prior week)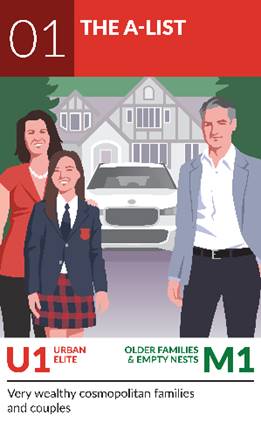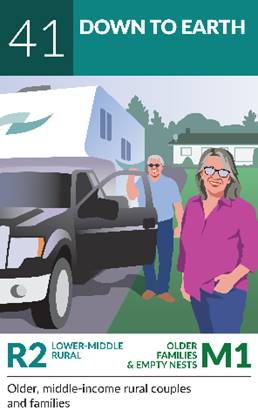 High penetration segments
Due to the smaller increase week over week observed with the Mature Senior population, it is likely that they had already been staying outside of the home. They may have been staying with family to support them by watching grandchildren or getting support from their family in their old age. It is also possible that these individuals have cottages or cabins that they are spending time at over the holidays.
The population of Young Singles, Couples and Families that were more likely to take an overnight trip during the week of Christmas were likely leaving the urban setting where they reside and staying with their parents or relatives for the holidays. It is also possible that they were local trips and mini vacations. Many of these singles and couples largely contributed to the movement in Montreal.
The families ranking higher on the socioeconomic scale also saw a huge increase week over week when looking at the Christmas holidays in 2020. A majority likely have cottages that they continue to visit in the winter. It is also likely that these individuals are still travelling either for work or for personal reasons over the holidays. This group along with the Young Singles, Couples and Families are two sets of people who are likely to feel less impacted by the COVID-19 pandemic and may be less concerned about the risks. They likely are "former" office workers who work from home, their children may be at home with them and most of their social circle are also in the same circumstances. They know the rules but may feel those rules are less relevant to them than to essential workers.
Mobile movement during the pandemic
The results of this analysis tell us something even more interesting – the behaviour of Canadians differs depending on where they live and the type of segment they belong to. Mobile movement data are now enabling government officials and health experts to focus their efforts and messages to the right audiences. At the beginning of the pandemic, it made sense to spread quick general messages to keep the public safe, but now that it has been a year, people are likely having difficulty keeping up with the ever-changing recommendations on the news and may be less engaged than they were in March of 2020. Our business clients have been using these data effectively to help improve their strategies and messages in order to serve their customers in a relevant way. Similar use of these data by municipalities, government agencies and health providers for targeting tailored messaging to specific audiences can only help with efforts to stop the spread of the virus.
---
Vito De Filippis
Director of Business Development
ENVIRONICS ANALYTICS
Vito De Filippis brings a background in marketing, consulting and analytics to his role as Director of Business Development at Environics Analytics. He helps clients get the most out of data and analytics and guides them on how to leverage strategic insights on their customers and markets to meet their goals. The recipient of an Honours Bachelor of Arts degree from the University of Toronto. Vito also earned an MBA at Wilfrid Laurier University.