Demystifying martech part II: The 5-step martech process
This is Part II in a series called "Demystifying the martech stack." The series is designed to help marketers choose martech solutions that are the right fit for their objectives.
The first article in this series offered a self-evaluation framework for marketers involving three steps: People, process and technology.
This article breaks down the marketing stack into five major subcategories, takes you step-by-step through the journey of a marketing campaign and offers a set of martech tools that facilitate each step.
This article will show that the martech stack isn't one giant (and intimidating) cloud of companies. Rather it's a collection of smaller clouds.
We've broken the process down into five basic steps. Each step has an associated collection (or cloud) of martech tools. To illustrate the process, we've created an imaginary marketing campaign following a SaaS marketing executive, Emily, and her team, step by step.
Meet Emily the marketer
It's the beginning of the quarter and Emily and her team need to replenish the lead funnel for the company's main product, an app that helps businesses manage their back office systems more efficiently. Her team knows what their objectives are.
The team forms a campaign plan to fill the funnel. Now it's time to roll it out following a five-step process.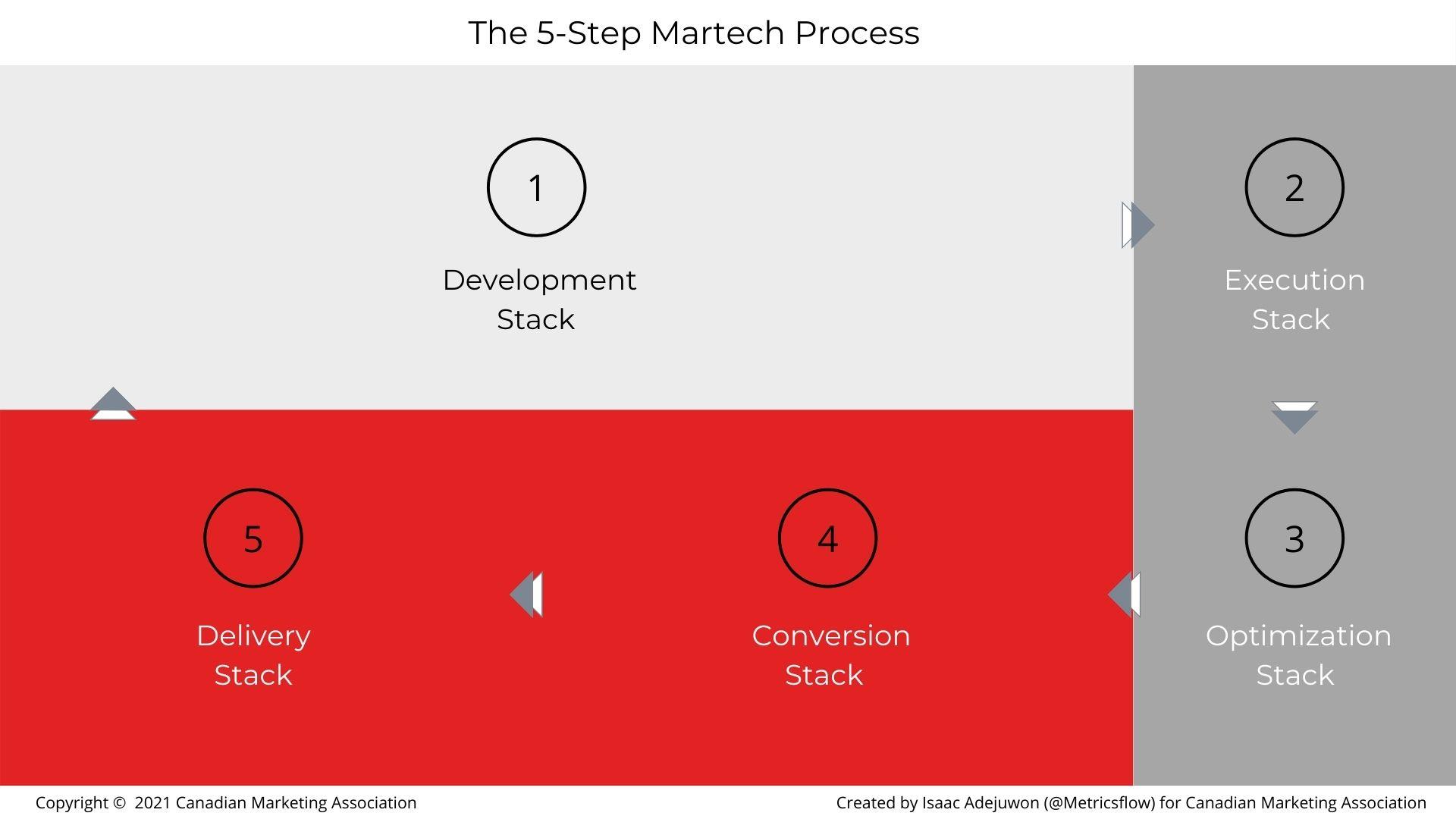 Step one: Development
To drive the leads, Emily's team develops a white paper which is based on a survey of business decision makers. It details the greatest frustrations that they face in managing their businesses.
The data that forms the white paper's foundation is used to spin off a series of infographics that illustrate specific business pain points that her company's software addresses.
And finally, Emily's team creates a series of content and short videos that demonstrate how her software solves the pain points quantified in the survey.
The 'development' cloud: Emily's team uses several tools to plan and manage the campaign. These include video conferencing software for meetings and project management tools for planning, scheduling, approvals, assigning tasks, and tracking progress.
Emily's team used cloud-based graphic design software to create the white paper template and related infographics. They conducted the research through a subscription based online survey tool. They used an online video editing suite to create the short videos and content.
Step two: Execution
Once the plan is in place and the content is created, it's time to execute. This means distributing the content across various channels to reach the target audience. Emily's team leverages the standard array of marketing channels to hit their marketing objectives.
These channels include paid (programmatic, Google AdWords, display, etc.); search (content marketing, SEO); social (LinkedIn, Facebook etc); email (marketing sutomation tool); affiliate (partners); and owned content management systems (corporate website, blog, app).
The 'execution' cloud: This step leverages programmatic ad tools, SEO tools, and email marketing platforms, plus campaign management and marketing automation solutions. Other helpful tools for this step include press release distribution platforms and blogging platforms.
Step three: Optimization
Once a campaign is live, it's time to make sure it's performing as planned. Emily and the team's analysts start tracking and monitoring the campaign's performance. They make adjustments to the distribution plan and advertising budget based on their analysis. If necessary, they may go back to the first step and create more content.
The 'optimization' cloud: Emily and her team will use analytics, attribution, data visualization, and reporting tools to produce the insights required to measure the campaign's effectiveness and to nurture leads properly.
Step four: Conversion
The team needs to convert the audience into leads and add them to the sales/marketing funnel. This conversion can come as form fills or purchase of a product. Or it can involve capturing visitors from one channel for retargeting on another.
Actions that lead to conversion include downloading a white paper or infographic, subscribing to a newsletter, requesting a demo, downloading an app, or some other action.
Once leads are in the funnel, Emily needs a way to assign the leads based on where they fit in the funnel. Will they be turned over to sales? Will they be assigned to receive a drip campaign to move them further down the funnel until they signal readiness for a sales outreach?
The 'conversion' cloud: The team uses either a customer relationship management (CRM) system or a customer data platform (CDP), in conjunction with email and marketing automation, to systematically nurture the leads down the funnel. CDP tools are mostly used for marketing, while CRM tools are mostly used for sales. But they perform similarly by storing attribution and nurturing customers.
Step five: Deliver
Once a campaign is completed, the team's analysts pore through the campaign data to deliver the results. They will also assess the campaign's effectiveness and generate reports to extract insights to improve the next marketing strategy.
The 'deliver' cloud: The team's CRM or CDP solution will store the data. The team may also use a data warehouse tool to store results. The team will also use data visualization and reporting software to produce the reports that provide a bigger picture of how the campaign worked (or didn't) with their target audience.
Our next article in this series begins an in-depth discussion of the development stack within the five-step martech process.