Strategic questions for developing your martech blueprint
Martech
Thought Leadership
There has been a lot of change in martech over the last five years. The technology landscape continues to explode with new applications and platforms. Digital and AI is transforming not only marketing, but the world. As Chairs of the CMA's Martech Council, we meet with leaders from across Canada who are on the leading edge of new trends every day.
Martech is a complex capability that companies are trying to harness. There is a lot of technical information, but to date, the strategy of martech has been ill-defined. While industry watchers see examples of tech stacks, we must ask, what is the strategy behind each approach?
University of Virginia's Darden School of Business and the Harvard Business Review developed the original list of seven questions back in 2016, as seen in the below image. A number of the questions emphasize customer experience.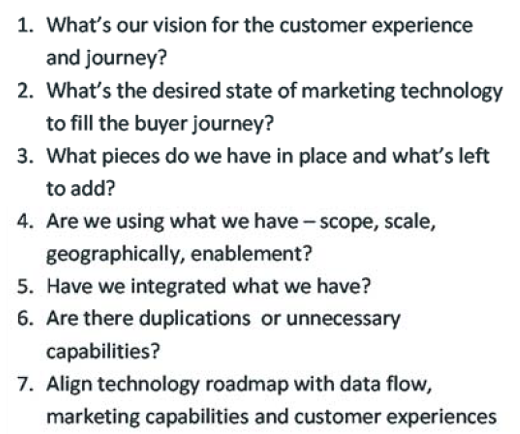 "The anatomy of a successful martech blueprint"
™University of Virginia, Darden Business Publishing, Developing a Marketing Technology Blueprint
A revised approach: Five types of questions
Today's marketing teams need to consider more information and context. This revised approach we're sharing broadens and addresses the strategic role of martech with five overarching question categories. Each section drills into the details of what marketers need to figure out to be successful at martech. You'll see that many of the above questions are incorporated into the expanded set of over 30 questions.
1. What is the role of marketing in your organization?
What are the expected business outcomes and impact?
What objectives do we want to achieve?
How do we measure performance?
Is there executive and stakeholder alignment?
2. Technical and operational assessment: Where are we now?
What is our current stage of martech maturity? How do we rank, overall and within each element?
What is going well? Consider capabilities and functions.
Do we have a plan that is clear and agreed on?
Is there full alignment within the organization?
How many pieces of tech are currently in the stack?
Do we have a solid tech, data and process foundation to build on?
Where have there been misfires in the last year? What is the frequency of occurrence, and what is the root cause?
What pieces do we have in place and what's left to add?
How much are we using what we have – scope, scale, geographically, enablement?
Have we integrated what we have?
Are there duplications or unnecessary capabilities?
What is the state of legacy systems/processes?
Does any tech need to be replaced now?
How efficient are the current marketing operations?
What is the total cost and impact of martech?
3. Where do we want to go?
How quickly do we want to move up the martech maturity curve?
What are the key steps to get there?
What's our vision for the customer experience and journey?
What's the desired state of marketing technology to fill the buyer journey?
How does martech provide a sustainable competitive advantage?
What is the future potential? Can we realize double the value in half of the time? Are there game-changing opportunities?
How will we really be better than our competition?
4. Are we ready? What are strategic gaps?
How strong is our "tech endowment" (current systems and capabilities)?
What are our weaknesses? (e.g. legacy tech, data, old processes, insufficient specialists, etc.)
Have we aligned our technology roadmap with data flow marketing capabilities and customer experiences?
Do we have the capabilities and the capital?
How are our martech team and processes structured?
Will our martech house be in order at the end of the year? If not, what target date are we aiming for to achieve this?
5. How do we get there? What are the priorities moving forward? "Now what?"
What are the key suggestions for improvements?
What is the sequence to improve capabilities and what are the next steps for tech?
What are the key outcomes and measures of success? Do we have a strategic analytics framework and dashboards that highlight these KPIs?
The above questions are thought-starters intended to create conversations to help align and focus organizations as they continue to build their martech ecosystems. Since tech changes so rapidly, companies are best served if they have systems in place that reflect a long-term view of marketing.
---
Authors:
Paul Lacap, Acting Executive Director, Marketing and Brand, University of Manitoba
Geoff Linton, President, Tekside.io