Where are you on the martech maturity curve?
Martech
Thought Leadership
After years of convincing your organization to invest in a modern martech stack, your marketing team is finally seeing traction and early results. But you can't help but be bombarded with new martech capabilities that are being introduced at lightning speed. The martech landscape has grown 24 per cent since 2020 and now encompasses almost 10,000 martech solutions across 49 categories, according to Martech.org.
You are now faced with a new dilemma – how should you continue to grow and invest in this stack? What are the key stages of maturity that need to be considered? When will your stack be fully evolved? To answer these questions, it is helpful to leverage a martech framework to design key performance measurements for adoption, marketing operations, campaign effectiveness, customer engagement, and sales results.
What are the considerations when selecting the right martech framework or maturity model? Given the multitude of industries, business sizes, and target customers, you will need to carefully consider a maturity model that best fits your organization. It's essential to also have a clear understanding of your business priorities to help you narrow down a model that will allow you to achieve these priorities. There are a number of martech models available, each with their own strengths and weaknesses.
Members of the CMA's Martech Council use a cross-section of industry or in-house frameworks. The commonality is that the frameworks have a handful of core areas and supporting capabilities which are aligned to marketing KPIs. Some industry models include "The Four-Pillar Martech Stack Framework" from Forrester's A CMO's Guide to Marketing Technology, or a martech maturity assessment could also be done.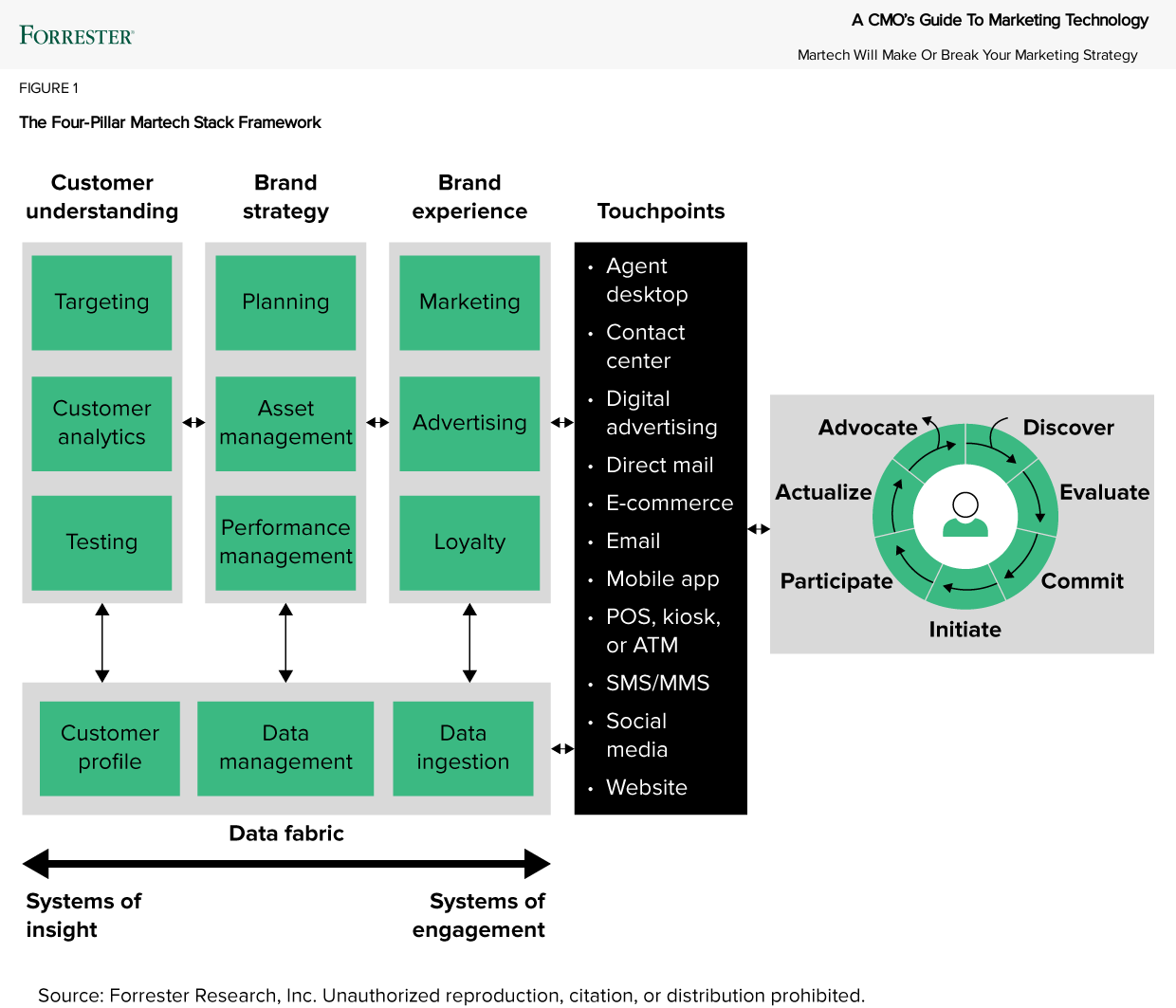 © Forrester
No matter the martech model you select, these five common maturity levels will need to be considered along the maturity curve:
Ad-hoc: Businesses in the ad-hoc stage have little to no martech strategy. They use tools sporadically, and there is no clear plan for integrating martech into their marketing processes.
Emerging: In the emerging stage, businesses have started to develop a martech strategy. They are experimenting with different tools and are beginning to see the benefits of martech adoption.
Operational: Businesses in the operational stage have a well-defined martech strategy in place. They have integrated martech into their marketing processes and are using it to drive efficiency and effectiveness.
Advanced: Businesses in the advanced stage have a sophisticated martech strategy. They are using martech to drive innovation, customer engagement, and revenue growth.
Leading: Businesses in the leading stage are martech pioneers. They are at the forefront of martech adoption and are leveraging it to create a competitive advantage.
As your organization evolves, there will be times you will move forward and backwards along the maturity curve due to internal and external factors – that's perfectly normal! By monitoring your performance measurements to recognize when you've stopped moving forward, you'll be able to course correct. However, investing in more martech is not always the best way to course correct. Before investing in new tools, it's crucial to assess if there are other areas in the martech maturity model that are not performing and address these areas first. No matter where you are on the martech maturity curve, the goal is to keep making progress towards where you want to be. Martech is a virtuous cycle and re-platforming and reconfiguring is part of the ongoing journey. Here's to evolution!
Authors:
Connie Lam, AVP, Customer Engagement Management, TD Bank Group
Geoff Linton, President, Tekside.io