Creative opportunities in the age of streaming
The Creativity Council recently had a conversation about the many opportunities that are available in the streaming space for brands to insert themselves and integrate their content into the audience experience. This blog specifically focuses on Netflix and the addressable and personalized advertising opportunities that brands can explore through this streaming platform.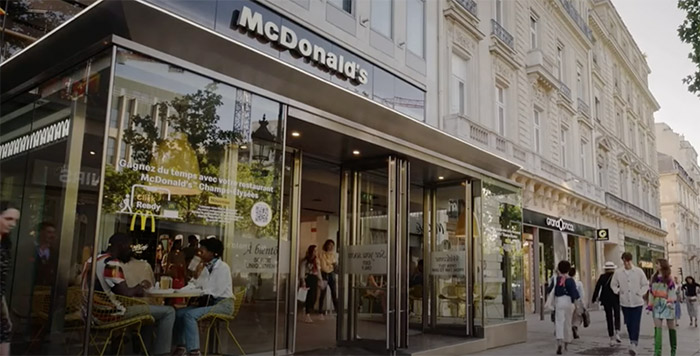 McDonald's in Netflix's Emily in Paris
A guide to creativity in one of the most iconic ad free environments
After years of speculation, Netflix announced in 2022 that they would be joining the wonderful world of advertising. Now well into the first year of their ad-supported model, the Creativity Council believes there is a significant opportunity for brands to engage in ways that look and feel different than ever before. Beyond the scale, there is a high-value leaned in audience that will continue to grow in the years to come.
So, why now? Netflix was founded in 1997 and since introducing their streaming model in 2007, they have seen a continuous increase in subscribers until 2022 – where it lost over one million subscribers in the front half of the year after changing some of its pricing models. But even with the decline in subscribers, Netflix still reaches 60 per cent of all Canadian streamers and holds the number one streaming position in the country. This is an important distinction given the fragmentation that exists in the Connected TV (CTV) and online video space today. Netflix has launched a number of ad opportunities available from sponsorships to pre- or mid-roll and multiple ways of targeting. And there is a lot more on the roadmap. Netflix is considering innovative contextual formats, ability to sponsor in-show through AI and augmented reality, and a whole slew of data and targeting capabilities. It's about to get way more personal.
So, what does this mean for creativity? Like other cultural channels before Netflix – Facebook, Pinterest, YouTube, TikTok – the brands that have adapted their creative to the channel have often had the largest return on investment. We believe the same will be the case for Netflix, and have identified key creative suggestions for brands or creative teams that are considering creative development for the Netflix environment.
The recommendations include:
1) Tell a story about your brand
While it looks and feels like a digital site, Netflix has always been about entertainment. You will be in big company with some of the biggest hits and stars in the world. This doesn't mean you need to up the production dollars per se – just prioritize storytelling in this channel over a sales message.
2) Take your time
This used to mean 60 seconds, but with the introduction of 6-second and 10-second spots, we believe that even 30 second content will stand out in this space, which also means more time for storytelling.
3) Develop original content
Create something special that your consumers can only see on Netflix. It can look and feel like your other assets in market, but it's great to have that exclusive. Brand forward custom content can be created to highlight your inclusion or mention in a hit show while also driving significant interest in search when a timely connection is made.
4) Build long-term partnerships
Like McDonald's has done with Netflix's Emily in Paris, if there is a show that resonates well with your audience, consider a longer-term integration or sponsorship element. Traditional sponsorships may be out of budget, but a more targeted program could be just as effective. Be the first for this ad opportunity and pave the way for long-term association.
5) Target a new audience
Saucony, known for some of the best runners, appeared in Netflix's Purple Hearts. CTV is a great way to feature new products or form a new perspective with a particular segment. If done authentically, Netflix and other platforms provide an incredible amount of positive brand association. Think of other hit shows like Wednesday or Heartstopper – Netflix is reaching a new generation through hyper relevant content.
So, whether you and your team are just dipping your toes into the creative opportunities that exist, or prefer to go all in, there are many options within the new ad environment on Netflix – and soon other CTV platforms. We anticipate the same opportunities will follow for many other platforms like Amazon Prime and Crave.
Entertainment is something we always intend for when building great creative, but it's an exciting time to think of entertainment as being the heart of your brand story. Let the good times roll.
Contributors:
Chuck Coolen, Marketing Lead, Ontario and Atlantic Canada, McDonald's
Ryan Taylor, Senior Art Director, LoyaltyOne