Sponsorship during an economic downturn
Measurement and effectiveness
The global economic outlook has shifted. According to PwC's Global CEO Survey, a staggering 73 per cent of CEOs expect a decline in global economic growth over the next year, a significant increase from just 15 per cent the year prior. A recent Deloitte survey echoed these findings, with approximately half of CEO survey participants having "strong" to "very strong" expectations about their organization's growth to decline over the next 12 months.
Despite this, businesses can strategically leverage sponsorships and embrace technological advancements to drive growth, enhance brand value, and maintain a competitive edge in the marketplace.
Learnings from the past
To gain valuable guidance, it's worth reflecting on the past. During the 2008 downturn, there was a prolonged recovery period for sponsorships compared to digital channels. While digital bounced back within nine months, sponsorships took three years to regain their double-digit growth trajectory. This raises an important question: Why did sponsorships take longer to recover when marketing budgets were declining? The answer lies in the fact that brands continued to invest in areas they believe offer the greatest return.
Consequences of reducing media spend
Findings from two separate 2008 studies, one from Millward Brown and another led by Peter Field, showed that:
Following a budget cut, a brand will continue to benefit from the marketing investment made over the previous few years. This short-term profitability is dangerously misleading as long-term business harm builds without growing share-of-voice. We know that acquiring share-of-voice costs brands less during a recession because their competitors are likely reducing their spend in a knee jerk reaction and media costs will likely fall.
60 per cent of brands that went silent saw brand use decrease by 24 per cent and brand image drop by 28 per cent. Businesses that continue to maintain share-of-voice and share-of-market during a downturn have shown a long-term improvement in profitability that outweighed the short-term savings.
Sponsorship and value creation
Since the last downturn, sponsorships have undergone significant evolution, primarily due to the integration of new technologies. These advancements have greatly enhanced the fan experience, customer experience, and staff experience. Advertisers now prioritize sponsorships that deliver targeted and measurable results, allowing for more engaging activations that align with brand values. By maximizing return on investment (ROI) and driving business growth, these improved sponsorships effectively cater to the changing preferences of consumers.
To assess the effectiveness of a sponsorship, it is crucial to consider factors such as relevance, scalability, and the level of market adoption. Despite the potential benefits, there still exists a divide between clients and agencies regarding sponsorships. While clients often appreciate the high level of engagement they offer, media professionals may perceive sponsorships as costly and less efficient, considering them to be significant expenses in financial records.
Sponsorship measurement
New sponsorship entrants, channels and consumer necessities will impact the key sponsorship value drivers now and into the future, calling for enhanced measurement methodologies.
With a lot of noise in the marketplace about what the future of sports sponsorship measurement could be, let's look at how one company thinks about and implements a multi-dimensional approach to sponsorship measurement.

Nielsen Sports, a global leader in sponsorship analytics, has created a comprehensive framework, Return on Sponsorship Investment (ROSI), that combines sponsorship analytics and advanced marketing effectiveness measurement. Its purpose is to empower Chief Marketing Officers and Chief Financial Officers to fully leverage the potential of sponsorships, as well as allow industry stakeholders to compare and calculate sponsorship ROI across a portfolio, minimizing brand investment risk.
The following datasets underpin ROSI:
Media value: Capturing impressions, time on-screen, and earned media value against measured audiences across video, image and editorial content on linear, digital and social platforms
Fan impact: Providing demographics including age, gender, income, location and size
Brand impact: Measuring brand health against audience segments including awareness, consideration and purchase information
Sales impact: Identifying percentage of sales attribution related to sponsorship versus other marketing activities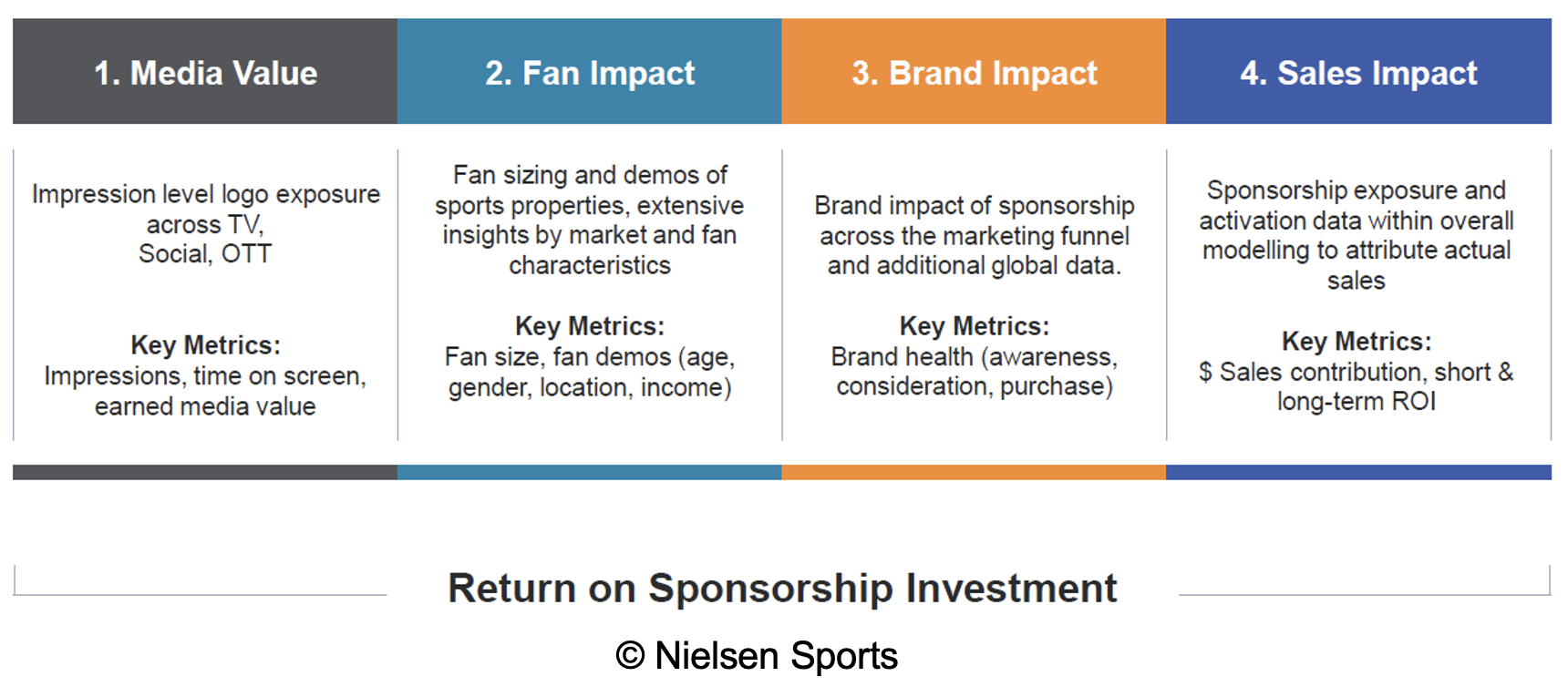 Final thoughts
Measurement is as important as ever and is evolving constantly as our industry matures. We are a long way from 2008, with more measurement at our fingertips to validate media. Despite the challenging economic outlook, businesses can strategically leverage sponsorships and embrace technological advancements to drive growth, enhance brand value, and maintain a competitive edge in the marketplace. The best way forward when in an economic downturn is to not slam on the breaks. Live for today, and at all costs, capitalize upon the most efficient way to build your brand through impactful sponsorships.


---
Contributor:
Scott Lidbury, Director, Nielsen Sports