Billions of tweets, lots of insight: Conversation trends of 2021
Ever wonder what you'd learn if you analyzed billions of tweets over the last two years - possibly the most tumultuous two years in memory? Well, keep reading because Twitter did just that.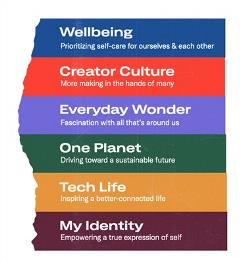 Conversations are evolving constantly but we've identified six key trends that are here to stay, and that have gotten more interesting in the most interesting of times.
Of these six, I've picked three that speak to me, but all of the trends offer opportunities for leaders and brands to join the conversation.
Let's start with Wellbeing
It's no surprise that COVID-19 is a driving force in this conversation, growing 65 per cent year on year and surging as the pandemic hit. This conversation is happening in a community that (self-)cares; with Twitter mentions of "self-care" growing by 24 per cent.

But, there's more. We've identified three sub-themes to go deeper into how conversations are evolving, what you can learn from them and how brands can join in.
Mind matters
Conversations about nurturing our mental health have grown by 32 per cent. And we've also seen a corollary 21 per cent growth in mentions of kindness, opening up a dialogue about self-esteem and self-love. Brands have an opportunity to be part of this conversation from a positive and actionable point of view.
We don't know who needs to hear this right now, but you got this.

— Tim Hortons (@TimHortons) April 6, 2021
Whole body health
This conversation is all about new paths to wellness, from psychedelics to kombucha to cannabis, within a community focused on discovery, sharing and positivity.
Communities of care
Focused on staying healthy together, people are finding strength in their community, with a notable spike in this conversation in April 2020, around the beginning of COVID-19 lockdowns. We have also seen significant growth (185 per cent) in conversation about gratitude, particularly about frontline workers. Brands have an opportunity here to showcase how they are also taking care of their communities, in ways that speak to their own brand values.
Today, I received my second dose of the Covid-19 vaccine. Then I went to a frozen lake in the lap of pure nature to dance Punjabi Bhangra on it for joy, hope and positivity, which I'm dispatching to Canada and beyond for everyone's good health.
YouTube: https://t.co/xGalq3TbEH pic.twitter.com/GvivlIk5KY

— Gurdeep Pandher of the Yukon (@GurdeepPandher) April 7, 2021
Creator Culture
Tweets about being at home have increased by 142 per cent. As a result, the Creator Culture trend came into its own early in the pandemic and continues to grow in significance. These conversations showcase new creative outlets that have opened opportunities for a new generation of entrepreneurs.
Brands can be part of this trend by tapping into the spirit of creativity and engaging directly with creators to find ways to bring their brand to life for a new generation of consumers.
Career creator
The mantra here is "create it to make it", as people evolve their side hustles to become primary income streams. We've seen a 27 per cent growth in the conversation around career creators, with a surge right after the first lockdown in March 2020 and as more closures were implemented.
We challenge you to recreate a work of art with objects (and people) in your home.

🥇 Choose your favorite artwork
🥈 Find three things lying around your house⠀
🥉 Recreate the artwork with those items

And share with us. pic.twitter.com/9BNq35HY2V

— Getty (@GettyMuseum) March 25, 2020
Aspiring makers
This trend is all about comfort in creation and doing what makes you feel good. People are increasingly talking about creative pursuits, and our homebound lives are driving the peaks in the upward trend. Passions range from gardening to gourmet creativity via baking and cooking to craft culture to cozy living. Marketers can join this conversation by encouraging their consumers to get creative in ways that connect with their brand.
Conversational entertainment
No surprise here. In our physically distanced but socially connected world, there's new interest in creation and shared experiences. We've seen a 41 per cent growth in conversation around entertainment that enables connection with others. From the rise of the #WatchParty phenomenon early in lockdown (e.g., Beyonce's #Homecoming on Netflix, the streaming release of Hamilton, ESPN's #TheLastDance) to social gaming and virtual immersive experiences, social entertainment is here to stay and many brands are taking part.
If you want to unlock the first 15 minutes of #ArmyOfTheDead you're going to have to do some digging (literally). RETWEET this tweet for updates on an exclusive look at the film on May 13th, 10AM PT. pic.twitter.com/Z8PoIR9AtI

— NetflixFilm (@NetflixFilm) May 7, 2021
My Identity
Another key trend shaping much of today's dialogue is My Identity.
These conversations centre around empowering a true expression of oneself. Fueled by social justice movements, these discussions address issues of identity, representation and equality.
On average, #BlackLivesMatter was used 3.7m times per day in the two weeks following the death of George Floyd - and #BLM peaked at 28 per cent of all conversations on Twitter. We also saw a 54 per cent increase in conversation around identity. Here are the sub-trends in this important conversation.
Represent me
Driven largely by #BLM empowerment, we've seen a 67 per cent increase in this conversation, and a staggering 2156 per cent growth in conversation around Black rights. But, this conversation goes beyond just one social justice issue and delves into other issues including, but not limited to, body positivity, racism and discrimination, LGBTQIA+, women in the workforce, and gender equality.
A cara-melt-in-your-mouth treat for fueling the fight to liberate Black and Brown people. Find Colin Kaepernick's Change the Whirled Non-Dairy near you: https://t.co/Iyz6FLg1c9 pic.twitter.com/AIJdx6aF0X

— Ben & Jerry's (@benandjerrys) March 21, 2021
Brands are leaning into these important conversations and showing consumers what they stand for. But there is much more work to do. When you set out to address these issues, consider working with members of the affected communities and think about how your own business practices might need to be adapted.
Ethics in action
As we engage in these conversations about representation and equality and other key issues in today's world, it's more important than ever to stand for something meaningful. We've seen a 49 per cent growth in the conversation about putting ethics and morals more front and centre. Even after the peak of #BLM in May 2020, the number of conversations around ethics, morals and values remain at much higher levels than before. Consumers expect brands and leaders to stand up for what they believe in, and to be a positive force for change in the world. It's a tall order but getting down to core brand values, and being authentic in what you do and say, are key to how you show up on Twitter and beyond.
Fan power
This trend illustrates what we mean by "Stan Twitter" (a slang expression that describes overzealous fans). It's all about collective values in fandoms, with people connecting with their idols and what they stand for.
doesn't get 🧈 than this #BTSMeal https://t.co/S0SIiYNFYm

— McDonald's⁷ (@McDonaldsCanada) May 26, 2021
We've seen a 33 per cent growth in conversation around fan power and as we've seen with fans of the band BTS, these communities deliver strength in numbers with impact. Brands who understand these "fan armies" and how to connect with them can harness this power.
So, there you have it, a deep dive into what two years and billions of tweets can tell us about consumer behaviours and expectations. If you're interested in learning more about the other trends identified, find the full Canadian report on marketing.twitter.com.