11/01/2022 19:00:00
3:00PM - 4:30PM ET
Online Event
CMAprivacy 2022
Members: $0
Non-Members: $49
Register Now
With trust and transparency so crucial to the customer experience, privacy considerations are a key pillar of any data-driven marketing strategy. CMAprivacy will bring Canada's marketing community together to discuss how marketers can prepare for changing privacy rules.
The long-anticipated federal privacy bill was tabled in June. Bill C-27, if passed, would replace Canada's current privacy law PIPEDA with a new Consumer Privacy Protection Act (CPPA). It would also regulate the use of artificial intelligence through the Artificial Intelligence and Data Act (AIDA).
A brand-new law in Quebec – Bill-64 – will come into effect in stages over the next three years.
At CMAprivacy, you will:
Hear from top government and industry experts on where federal privacy and AI regulation is headed, and how marketers can prepare.
Gain insights into how Canada's emerging law differs from laws in other major jurisdictions.
Understand the impacts of Quebec's new privacy law on organizations that handle the personal information of Quebec residents, and the provisions that have the most impact on marketing.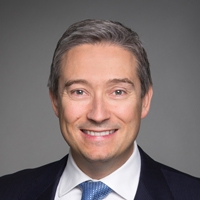 François-Philippe Champagne
Minister of Innovation, Science and Industry
Agenda
Bill C-27 proposes sweeping changes to Canada's privacy rules, and new proposals to regulate high-impact AI systems.
Panel experts will offer insights on what marketers need to know about the changes to come, and how they can begin to prepare now to continue to leverage personal information and AI in a compliant way.
Marketers need to prepare and adapt, as Quebec's new law takes effect in stages over the next three years.
Panel experts will discuss the major changes that marketers need to prepare for – including new consumer rights, changes to consent requirements, and enhanced transparency for automated profiling and geolocation technologies.
Minister Champagne will speak about the Consumer Privacy Protection Act (Bill C-27) and how it will ensure strong privacy protections for Canadians and further enable responsible digital innovation.
The Honourable François-Philippe Champagne, Minister of Innovation, Science and Industry
The Honourable François-Philippe Champagne was first elected in 2015 as the Member of Parliament for Saint-Maurice—Champlain. He has previously served as Minister of Foreign Affairs, Minister of Infrastructure and Communities, and Minister of International Trade.
Minister Champagne is a businessman, lawyer, and international trade specialist with over 20 years' experience at large international companies in Europe, particularly in the fields of energy, engineering, and innovation.
Before entering politics, Minister Champagne was Vice-President and Senior Counsel of ABB Group, a leader in cutting-edge technology that operates in more than 100 countries. He also served as Strategic Development Director, acting General Counsel, and Chief Ethics Officer and Member of the Group Management Committee of Amec Foster Wheeler, a world leader in the energy sector.
In 2009, Minister Champagne was named Young Global Leader by the World Economic Forum. He has served on several boards over the years, and was notably President of the Canadian-Swiss Chamber of Commerce and the Banff Forum.
After his election in 2015, Minister Champagne served as a parliamentary secretary to the Minister of Finance until 2017, when he was appointed Minister of International Trade. During his time as Minister of International Trade, the Canada-European Union Comprehensive Economic and Trade Agreement entered into force, and Canada signed the Comprehensive and Progressive Agreement for Trans-Pacific Partnership. In 2018, he was named Minister of Infrastructure and Communities, and oversaw the federal government's ambitious $187 billion infrastructure investment plan. He was appointed Minister of Foreign Affairs in 2019, and oversaw the creation of Canada's Declaration Against Arbitrary Detention in State-to-State Relations, which more than 60 countries have endorsed.
Minister Champagne holds a Bachelor of Laws from the University of Montréal and a Master of Laws in American law from Case Western Reserve University. Minister Champagne also studied public and private international law at The Hague Academy of International Law, in the Netherlands.