Competition Bureau outlines strategic vision to 2024, enforcement in online marketing a key priority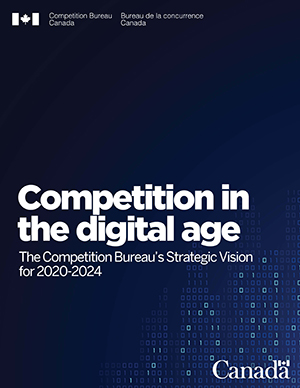 The Competition Bureau has released its strategic vision for the next four years. Competition in the Digital Age outlines the Bureau's vision to be a world-leading competition agency, at the forefront of the digital economy and championing a culture of competition for Canada. It outlines action items and desired outcomes in three priority areas:
Protecting Canadians through enforcement,
Promoting competition in Canada, and
Investing in the organization.
Highlights of the Bureau's plans in these areas are provided below.
Given the Bureau's increased scrutiny of anti-competitive behaviour and deceptive marketing practices such as influencer marketing, price or Made in Canada claims, greenwashing, testimonials and reviews, we encourage CMA members to review these and other marketing practices to ensure that they meet or exceed requirements. Failure to comply with the Competition Act could lead to lengthy Bureau investigations, substantial fines, reputational harm and costly court proceedings.
The CMA's recently updated Code of Ethics and Standards of Practice, outlines requirements and best practices in these areas. Marketers can check with their regulatory and legal teams to review their current practices and create or update compliance programs as soon as possible.
Protecting Canadians through enforcement
The Bureau will focus enforcement actions on: "sectors of the economy that matter most to Canadians", including online marketing, telecommunications, financial services, health, and infrastructure.
To keep pace with more sophisticated methods of anti-competitive and deceptive conduct, the Bureau will invest in advanced enforcement tools, analytical models, algorithms, automated processes and artificial intelligence.
The Bureau strives to be a leader in all aspects of digital evidence. Beginning this year, it will host an annual Digital Enforcement Summit Series, bringing together domestic and foreign partners to foster an exchange around the challenges and opportunities for competition enforcement in the digital age.
Promoting competition in Canada
The Bureau intends to seize opportunities to encourage competition and innovation in areas that matter to Canadians and provide regulators and policymakers forward-thinking advice on how to foster competition and innovation in marketplaces across the country to ensure that start-ups and small and medium-sized businesses can enter markets, disrupt incumbents and deliver innovative products and services. It will provide insights on how to unlock the competitive potential of telecommunications markets and other sectors.
The Bureau will work with international bodies, and with ISED, on critical issues such as the impact of digital transformation on competition; emerging issues for competition in data accumulation, transparency, and control; the effectiveness of current competition policy tools and marketplace frameworks; and the effectiveness of current investigative and judicial processes.
The Bureau will enhance its efforts to raise awareness of consumer and competition issues and will continue to help consumers avoid being victims of fraud and deceptive marketing practices.
Investing in the organization
The Bureau intends to strengthen its office and support its staff in several ways. In addition, it will create a new Digital Enforcement Office, tasked with providing specialized technological support to drive its work in the digital economy forward.
The regulatory landscape is constantly changing. The Canadian Marketing Association provides guidance and support to its members on a wide range of topics. Check our site for resources and updates and stay current by subscribing to our Top 5 Picks e-newsletter through MyCMA.