Entering the era of human experience
Creating authentic human connections in the age of data overload
It is undeniable that building deeper customer understanding and empathy in decision-making is becoming a top focus for executive leadership. Businesses must understand how to connect with their customers by creating experiences and stories that resonate on a human level. As customer expectations and their brand interactions grow, organizations have had to evolve their engagement and operating models, which include a focus on eliminating internal silos and accelerating digital transformation to enable the shift from customer experiences to human experiences.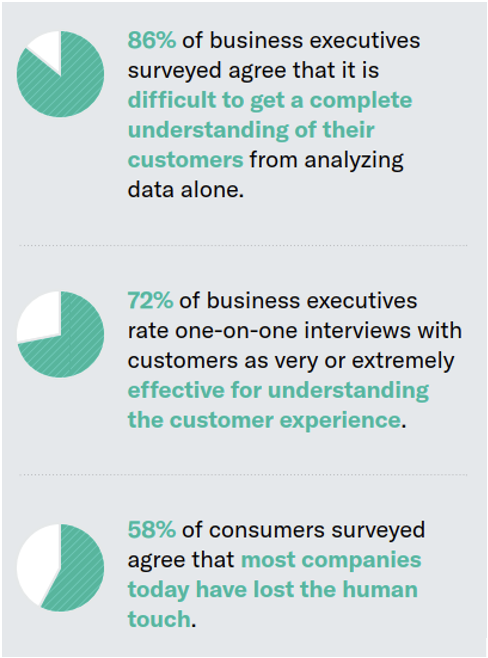 ™ Harvard Business Review
Source: Emphasizing Empathy as a Cornerstone of the Customer Experience
It is interesting to note that while organizations are focusing more and more on digital adoption and capturing tons of data, they continue to struggle to understand customers as people. While many marketers already focus a great deal on customer experience (CX), there is an important distinction between that and human experience (HX). That's where the conversation about HX started gaining ground.
What is HX?
CX starts with the premise that an organization's actions at every touch point matter and contribute to the overall CX metrics. It means that every touch point, from hold time in the call centre to a product's user interface, is critical when it comes to CX measurement. However, HX starts with the premise that an individual's value system, feelings, beliefs and ambitions are even more important because they define who they are and what they value the most. In a nutshell, these external or peripheral aspects have a profound impact on decision-making and the choice to trust a brand.
HX is more about purpose than about consumption (customer/consumer) or usage (user). We use or consume products for a purpose. What's more, "purpose is what gives life a meaning," as American social reformer Charles Henry Parkhurst famously put it.
Below are a few ways to keep HX in mind for value creation:
Focus on the human touch
It was found that, "despite the potential benefits of more direct engagement with consumers, many organizations continue to prioritize data collection and analysis over interactions with customers that can generate empathy," according to a Harvard Business Review (HBR) survey. Even though it's a proven value creator, there is an empathy deficit in our measurement framework that has profit or revenue KPIs as key leading drivers. We need to focus on emphasizing empathy as a key driver of HX.
Evolve from CX and EX to HX
Brands have an opportunity to look inwards. To build a deep human connection with another individual focused on personalized experience — whether that person is a customer, employee, or a partner. The top focus for digital transformation is to enhance productivity, and that should consider evolution of CX metrics to include user experience (UX), employee experience (EX) and brand experience (BX) at its core. Human experience is the critical underlying building block to drive loyalty, trust and retention.
Supplement data with emotion
While data can help you with predictive analytics, there is still a need to capture augmented qualitative data to get the complete picture. As revealed by UserTesting in this HBR article, "in order to improve customer understanding and build empathy for your customers, it is important to capture qualitative feedback through human insight," intelligence that can allow us to show up with greater humanity. Qualitative feedback, like unscripted, open-ended responses from observations, frontline encounters, focus groups, and interviews brings customer emotions into the interaction, providing vital information that analytical data won't surface.
Flip the value creation paradigm
This requires organizations to be fast and agile to meet a person at the point of need, even if the need is to slow down and build an authentic connection. Brands can't be human if they can't be present. Shift the focus from what's the value this customer brings, to what's the value I am creating for this customer.
Introduce shared goals
To deliver enhanced human experiences, it requires the entire organization, from the front office to back office, to embrace the shift. Creating shared metrics and presenting a consolidated view of CX metrics across the organization to achieve consistency and customer experience improvements is necessary.
Shift from a cost mindset to a long-term growth mindset
CX must be viewed as long-term assets requiring investment to scale that will result in overtime value creation. As marketers, we fall into the trap of looking at cost as a driver rather than assessing the need for the investment based on the expected outcome. Without the investment and infrastructure that helps long-term value creation, we will not be able to create scalable implementation plans.
Get away from the data trap
Organizations often struggle because they are over-indexing on data and lacking deep understanding of actual market pulse. They sometimes get caught up in incredible amounts of data (analysis paralysis) which leads to delays in execution, and by the time the insight is actioned, it might not be relevant anymore. We need to adapt agile ways to test, learn and scale.
Breakaway from siloed brand perception
Organizations can't look at data in isolation based on a department or a channel, since it only tells you half of the story. Organizations need to adopt a true omnichannel strategy to orchestrate complete, seamless customer journeys across all channels, interactions, and touchpoints to advance from multi-channel to omnichannel.
Final thoughts
In conclusion, it's about becoming a human experience-centered brand.
CX is being overtaken by HX and it is those companies who become early adopters that will have a competitive edge. Focus on creating a human-first data experience to build authentic connections with customers. Your customers are people, and people can become deeply invested in those they trust. And when we focus on the people-first aspect, it creates true value both ways – for the customers (humans) and the brands.