Generating and maintaining employee trust
This blog post is part of a blog series developed by members of the CMA Brand Council on the topic of "brand as a value generator." This is the final blog in the series, diving into the importance of employee trust as part of customer experience. Check out Part 1, Part 2, and Part 3.
EX versus CX
What comes first – the brand, the employee experience (EX), or the customer experience (CX)? Can a business succeed focusing on only one area at the expense of another? Of course they can, but is that the most effective way to go?
As marketers, much of our focus is on the brand – and by extension, the customer experience. After all, it is perception over reality. How a consumer interacts with and envisions our brand says much more about it than the mission and vision drawn up in a boardroom.
But isn't it often the employees who set the baseline for CX? As the saying goes, each organization is only as strong as their last employee interaction. And every touchpoint matters.
Salesforce's new report, "The Experience Advantage" reveals that a focus on improving EX can boost "revenue growth by up to 50 per cent or more." In addition, "companies with high CX and EX versus low CX and EX saw 1.8 times faster revenue growth."
So why are we not all focusing on it? Again, part of that may come back to perception versus reality. When asked about the EX at their organization, the response from C-suite consistently overvalued the employee perception.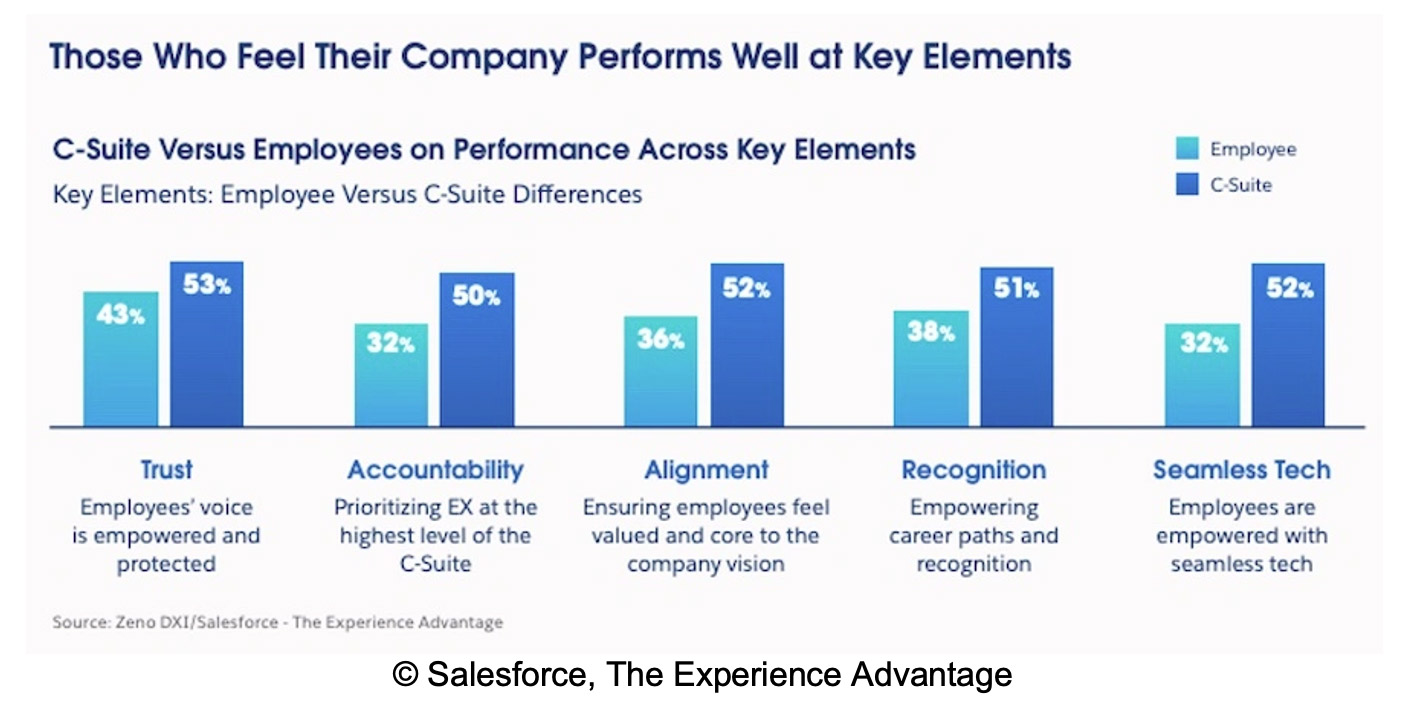 But the truth of the matter is that nailing the employee experience has tremendous business upside, and it can and should be the number one focus.
So how do we do that? Interestingly, it is almost equally distributed between the emotional and the tactical or tangible.
According to the Salesforce report, there are five key elements to building a better employee experience: Trust, C-suite accountability, alignment, recognition and seamless technology. At the top of the list is trust, and rightfully so. This can be associated with physiological safety. Do your people have trust and confidence in the organization? Do they feel they can be themselves? Do they feel they can bring forth ideas without fear of repercussions?
At the other end of the spectrum, but still incredibly important, is seamless technology. Let's broaden that to say, "make it easy to do my job." How many organizations profess themselves to be leaders in technology and innovation, but then have back-office systems that only a handful of folks left in the world know how to code?
Top talent wants to be empowered and rewarded for great work. Any actions or systems that stand in the way of that will quickly become a hindrance to attracting and retaining said talent.
Purpose narrative for hiring great talent
So where does a purpose narrative fit in? Increasingly, brands are focused on a purpose narrative – and the data supports it. One such report suggests that when a brand has a strong purpose, consumers are four times more likely to support said brand.
But what impact does that purpose have on EX? The notion that a brand purpose also supports the employee experience, is further reinforced by a quarterly McKinsey report. The research found that 82 per cent of employees believe it's important for their company to have a purpose. Also, once inspired by a company with credible purpose, 93 per cent of employees say they are likely to recommend that company to others.
Further to that end, third on the Salesforce list was that "employee value and company vision are aligned."
EX and retention
So, what is the importance of EX on retention? Let's start with the business side of things. It is costly to lose an employee. Hiring new talent to replace staff can vary in cost, from 30 per cent of an entry level employee's annual salary, all the way to 400 per cent of the annual salary of a specialized employee, according to SimplyBenefits. There are a number of factors that favour retention over hiring, including recruitment, training, employee relationships and client relationships.
Speaking confidentially to a talent source in the agency sector, attrition cost the agency 12 per cent of total revenue.
The long and short of it is that it makes great business sense to invest in our employee experience and retain those folks for the long-term.
Does generation and role factor into it? Quite likely. According to a 2021 Forbes article, "CareerBuilder analyzed generational differences and how those characteristics affect the length each generation stays in a job." In terms of average job tenure, it found the below:
Baby Boomers (born between 1946 and 1964): 8 years and 3 months.
Generation X (born between 1965 and 1980): 5 years and 2 months.
Millennials (born between 1981 to 1995): 2 years and 9 months.
Generation Z (born between 1996 and 2012): 2 years and 3 months.
The data suggests that with each generation, the average length of stay in a job decreases, at more than eight years for Baby Boomers and just over two years for Generation Z.
Final thoughts
So, what does this tell us? It is not an either or, when it comes to EX, CX or the brand. We need a strong brand vision to entice great candidates. We need a strong EX to retain great talent, and to create an excellent customer experience. It is that great CX that turns the brand vision into a reality. But to that notion, investing in the right areas will support all three.