Canada's Accessibility Laws: A Jurisdictional Scan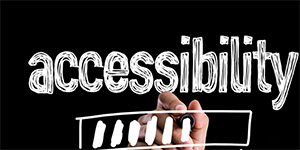 In an effort to make society more inclusive for the more than 6 million Canadians aged 15 and over who have a disability, governments have been passing accessibility laws focused on eliminating and preventing barriers.
Accessibility is an area that offers great opportunities for businesses, but it is important to stay current on significant legislative changes that have occurred over the last couple of years, as the fines for violations can be substantial.
Ontario's Accessibility for Ontarians with Disabilities Act (AODA) was the first accessibility legislation to get passed back in 2005. It legislates reporting and has a set of standards that government, businesses, non-profits and public sector organizations must follow. The standards are categorized into five areas – customer service, information and communications, transportation, employment and design of public spaces.
While the guidelines for the Integrated Accessibility Standards Regulations will be undergoing a review, the standards and reporting deadlines still apply. The deadline for compliance with pieces of the information and communications standards like Web Content Accessibility Guidelines (WCAG) is fast approaching, so check the AODA website for information and ensure you are ready.
The Accessibility for Manitobans Act (AMA) has the same categories as Ontario for its accessibility standards, with specific requirements and timelines. To date, two of the five standards have been developed and are either in force or set to come into force over the next year or two, with more standards under development and set to be released. For more details, visit the AMA site.
Nova Scotia passed its Accessibility Act in 2017 with a goal of an accessible Nova Scotia by 2030. Its accessibility standards are currently under development through the newly established Accessibility Directorate, but the areas are consistent with Ontario and Manitoba. The provincial government announced a grant program to help small businesses remove barriers to accessibility as part of the roll-out.
The Accessible Canada Act went into force July 11, 2019 and applies to federally regulated private sector institutions, including banking, transportation and telecommunications, as well as the Government of Canada, Crown Corporations and Parliament. The Act:
Requires organizations to develop and publish accessibility plans, put in place a mechanism for receiving and addressing accessibility-related comments, and provide regular progress reports on the implementation of their plans that addresses any feedback they receive. Existing regulators and complaints bodies, like the Canadian Radio-television and Telecommunications Commission (CRTC) are required to foster complimentary accessibility policies and practices.
Creates the Canadian Accessibility Standards Development Organization, which is tasked with developing and revising accessibility standards to provide clear guidance on accessibility requirements, as well as two new positions: a Chief Accessibility Officer, whose role is to advise the Minister of Accessibility and monitor accessibility issues, and an Accessibility Commissioner, who will lead compliance and enforcement activities.
Establishes National Accessibility Week which begins each year on the last Sunday on May.
CMA members are encouraged to familiarize themselves with the various laws to ensure compliance. On the horizon, other jurisdictions such as British Columbia, have tabled accessibility legislation with more likely to follow.
Ready to test your accessibility knowledge? Take our Quiz.
The regulatory landscape is constantly changing and staying current is important. If you are unsure of where to turn, the Canadian Marketing Association provides guidance and support to its members on a wide variety of issues. Check our site for resources and stay up to date by subscribing to our Top 5 Picks e-newsletter through MyCMA.
---
Questions or comments? E-mail us – we want to hear from you.